Overview
In this 4 weeks Afro workshop, you will learn techniques which will activate your groove and move you out of your comfort zone. This workshop aims to empower you to own and honour your groove, moving you into new realms of your dance journey.
You will learn how to define your groove and how to manifest it in your body. Starting off with breathing exercises and working the torso and the back.

This week will be about playing around with poly-rhythms and poly-centrism.

3. THE POWER OF STILLNESS

You will learn the power of stillness and how this adds another dimension to your dance, playing with internal energy and external energy.

This week is the week we put everything together. Time to groove with purpose on purpose.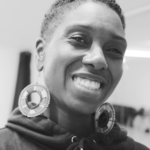 Sheila is a Holistic Dance Practitioner that uses African dance forms to promote self-confidence, self-esteem self-love and overall wellbeing. She had the pleasure of offering this practice for over 7 years and has witnessed how this holistic structure lends itself to many benefits such as expression, fun, fellowshipping, maintaining a healthy self-system and offering an alternative cathartic experience.